Special report on Hybrid Groceries: Amazon is preparing to launch `` Ultra Fast Fresh '' in the United Kingdom, a service merging its grocery offer with its basic Prime offer.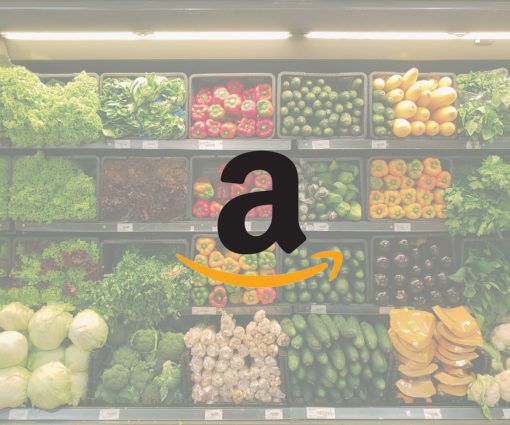 NDLR : In preambl, sorry for my English and American friends... this article is writing ''with a french accent''

It is moving on the side of an Amazon which seems to be on the lookout and probably hyper opportunistic because it can benefit from the Covid crisis19 to accelerate the progress of certain projects.
Example today from England, a former European country and economically and culturally close to the United States.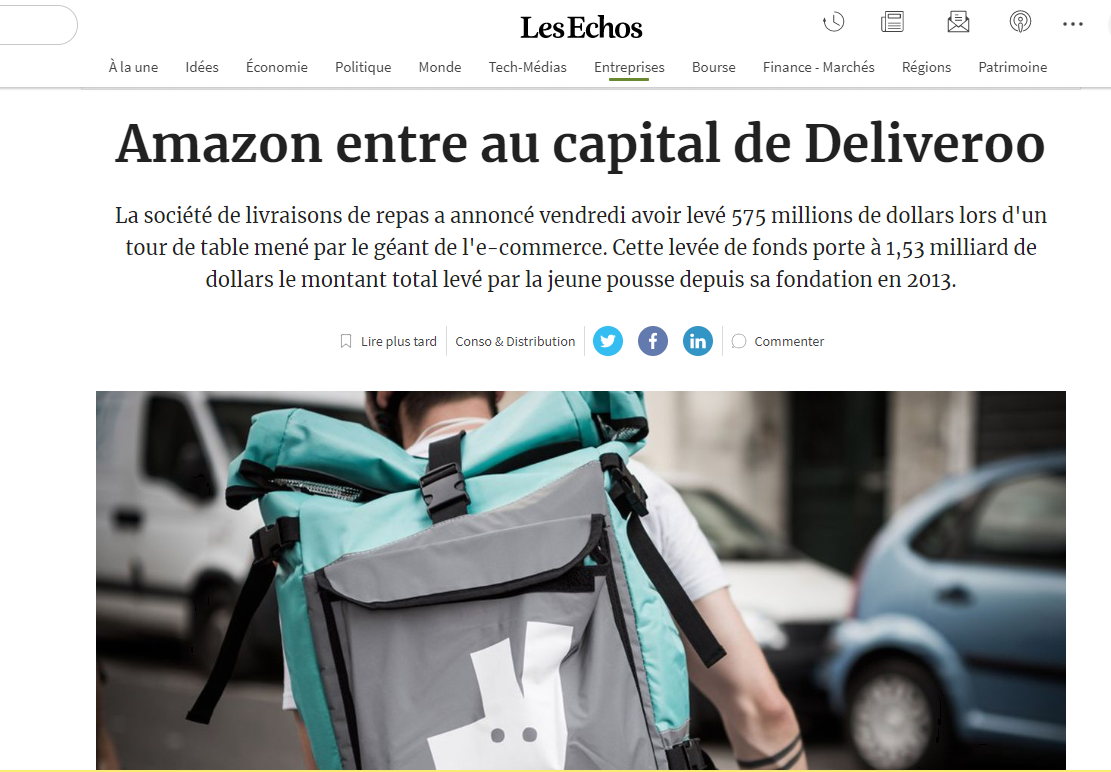 # 1 / On the one hand, the CMA (UK competition regulator) announces on January 17 the validation of a 16% stake for $ 575 million in Deliveroo in financial difficulties in the face of the Covid19 crisis (Amazon had announced in May 2018 his interest to entrance in Deliveroo capitalisation, the crisis being only a symptom revealer).
A delivery service created in 2013, present in more than 13 countries, 500 cities, with 50,000 "uberized" employees and 50,000 partner restaurants. Deliveroo faced with its losses having tried to diversify its services, initially planned for restaurateurs, for the delivery of food groceries without success.
Stuart McIntosh, Chairman of the CMA Independent Investigation Group, said, "Without additional investment, which we believe is currently only realistically available with Amazon's offer, it is clear that Deliveroo would not be able to meet its financial commitments and would have to exit the market "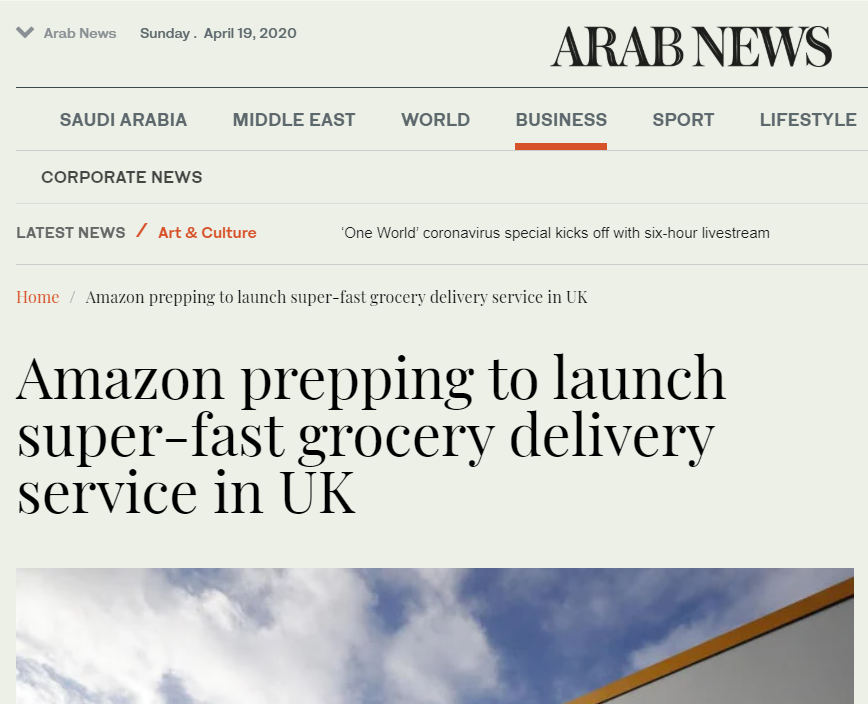 # 2 / On the other hand Reuters announces on April 17 that Amazon is speeding up on the launch of "Ultra Fast Fresh" a "global" project of what it calls "Hybrid groceries", a mixed model offering product and services, which we already saw dawning in the United States with in particular the cancellation of the Fresh subscription of $ 14.95 per month and passing to the total free for the delivery of food products, and who could find in the United Kingdom an ideal "in vivo" testing ground.
This project is no longer based on store fittings, for example Whole Foods in picking and click & collect, or some future acquisitions of Amazon stores in the UK, but on the redevelopment of 9 local warehouses to specific manage fresh produce and respond to grocery requests in a few hours and better serve a supply of '' daily grocery '', and integrate the offer '' Fresh '' and '' Prime Now '' available with supplement until then in the Prime subscription, but which could be permanently integrated in Prime without supplement. And to facilitate access to this English market, which has become so conducive to American companies since the validation of Brexit, and which can be result in a frontal attack of local historic brands Sainsbury (whose proximity logistics are provided by Ocado) Tesco, Asda , Waitrose and especially Ocado undermined by the crisis. Not sure that the English businesses under of Brexit effect will benefit.
The confusion of the two, Fresh and Prime Now, could result in a condense of all his past experiences in the grocery segment by Amazon in US. And here in the UK during the Crisis and Post Crisis, the planets would line up ideally.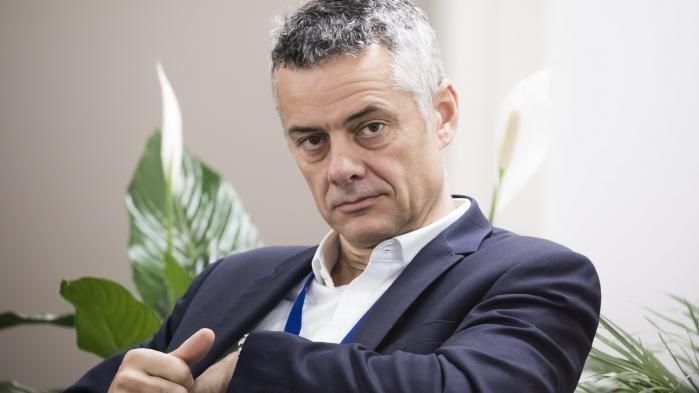 While we naively analyze in France the effects of the Nanterre court decision who lead in temporary closure of Amazon french logistic platforms, Amazon advance not far from our country on the other side of the Channel at the time of a politically officialBrexit, the General Manager of Amazon France Fredric Duval admits that if they cannot deliver from France ... no problem. While respecting the decisions of the court Frédéric declares that customers would nevertheless be served with the Amazon strategy `` customer first '' even if that's means tahn theire is à necessity to use warehouses outside the area France to deliver non-food and non-priority.
The Super Fast Grocery Delivery UK strategy at my sense : To deliver groceries products to home, more than proximity store augmented by digital tools and fullfilment department, customers can simply be brought closer to micro-logistics units. This is the condition for a new retail unit of "service" business.
Because personnaly i think that the historic Amazon logistical model is struggling on this ''grocery'' and fresh product point. On the one hand, some mega warehouses which are no longer adapted to changes in specific requests for groceries, namely a dematerialization of purchases (a fortiori in the post Covid19 period to be confirmed), a fragmentation of acts and an increase in the pace of orders a increase in purchases of "fresh products" delivery in two hours ... In France alone 2,500,000 French people tested for the first time an online "food" purchase during containment, with an index of 7.5 / 10 satisfaction for the pick up station ''drive'' un french. The retail offer must therefore be closer, more efficient and faster ... and without breaking. A key word? The total accessibility to my offer, off and online.
In this context, store with integrated microfulfillment is, as you know, one of my favorite subject of the period (and before the NRF ...) to speed up the processing of home requests for groceries from a sales area ... or a warehouse nearby like those being transformed by Amazon in the UK in this project of ''hybrid grocery'' by Amazon.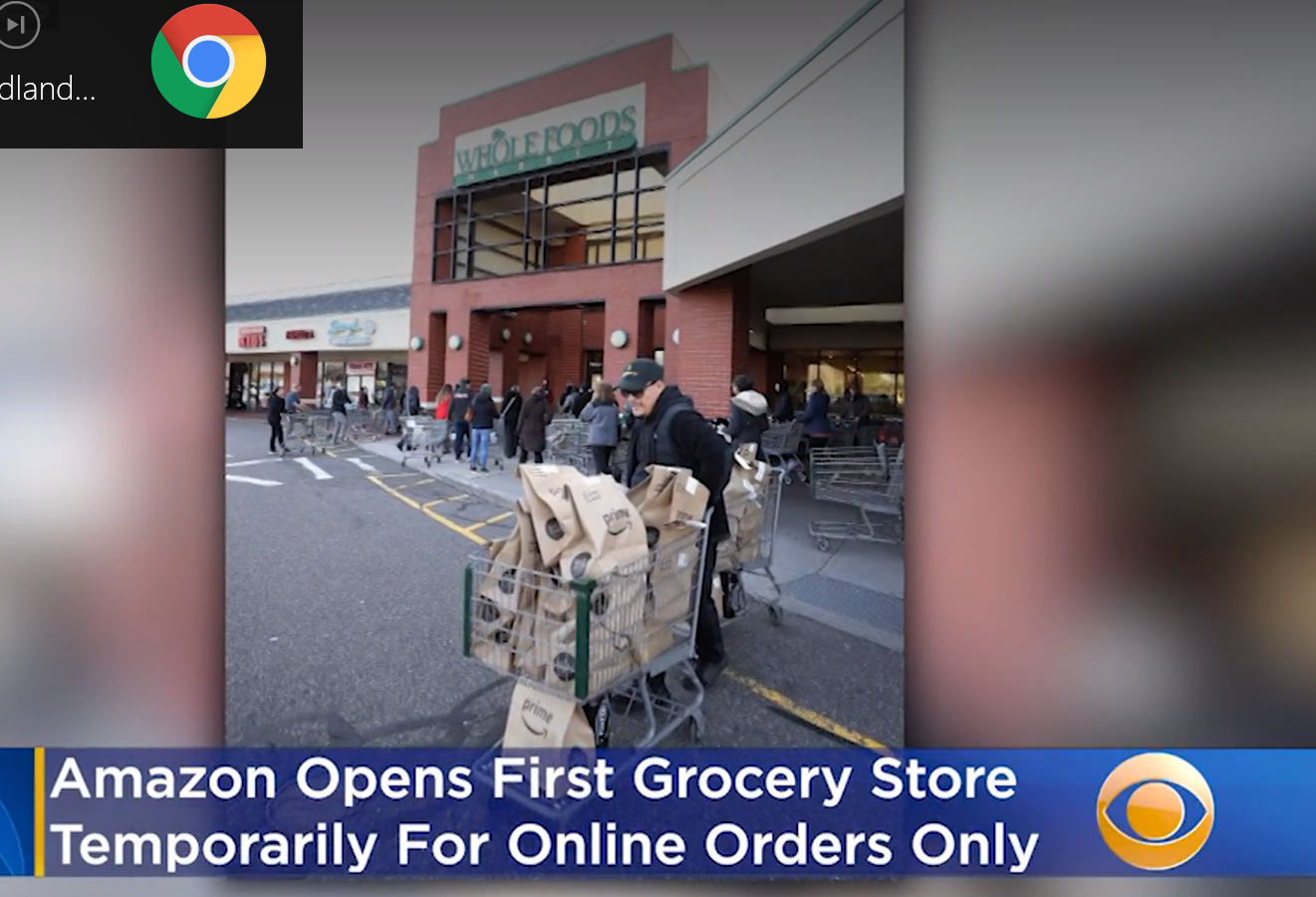 On the other OK, retailers need a physical network, we buy for example at Wholes foods but the evolution of demand, particularly in relation to the current crisis, makes us aware that these points of "collection" can be insufficient for évolution of retail. One solution? transform some (even temporarily) like the future '' Amazon fresh '' of Whoodland Hills transformed even before its imminent opening into a black store, i.e. '' pickup only ''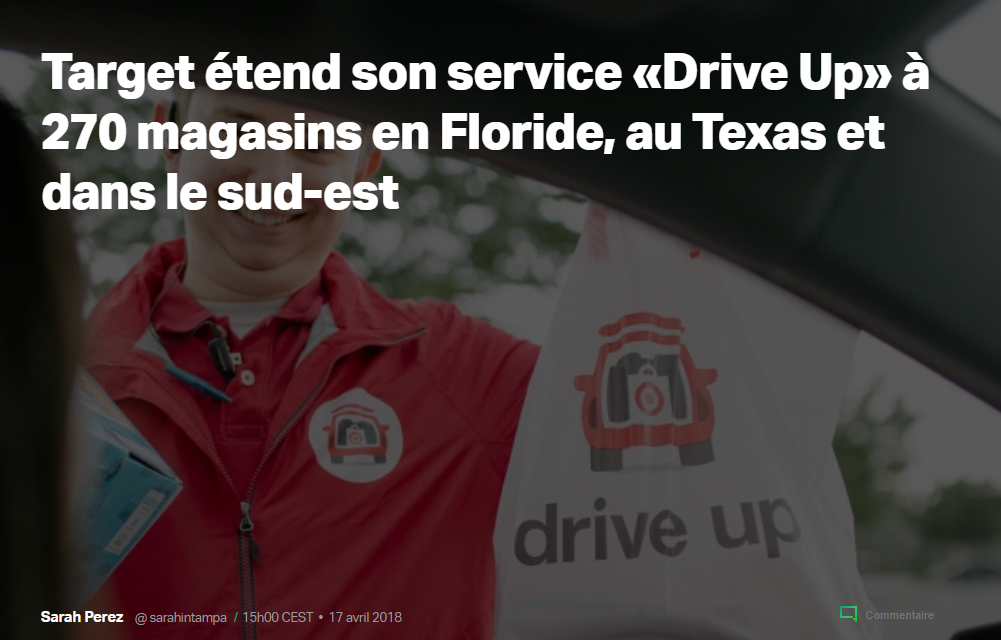 Finally, the battle fought by brick and mortar retailers in the United States rages on and undermines Amazon which had to reinvest $ 1.5 billion in H2 2019, to fight against Walmart, Wegmans, Target and other Krogers who are putting problem in proximity grocery offer of Amazon, with the "pick up stations" strategy, and once again whose benefits are highlighted compared to the confinement of the outbreaks linked to Coronavirus.
This strategy of ''micro fullfilment'' maybe will allowing Walmart to finally take off in online grocery sales.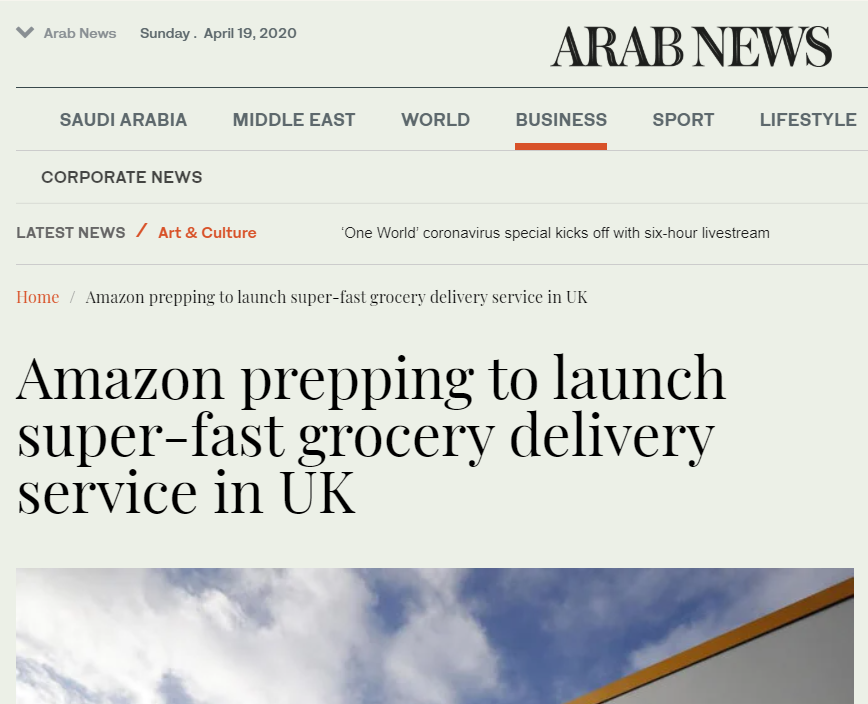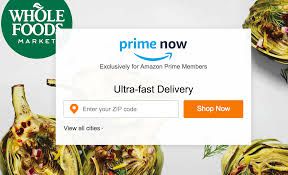 The information is already going around the world and while we were expecting an announcement of an imminent opening of an Amazon GO in London (and whose concept will need certainly to be adapted vs post coronavirus crisis)… we are headed more urgently towards the launch an ultrafast grocery delivery service in the United Kingdom based on these 9 `` adapted '' warehouses already under transformation and therefore the acquisition of part of the capital of Deliveroo for the `` last miles '' part on April 17 (subject to final gourvermental validation in mid May).
It remains to be seen whether the central promise in the UK will be '' 2 hours delivery '' free as in the US knowing that the current project is capable of covering 40% of British households, or with the option '' one hour '' with standard supplement '' 'Prime Now' on unit order or both. Knowing that in my opinion the one hour option will be abandoned as the most difficult to cover and the least profitable.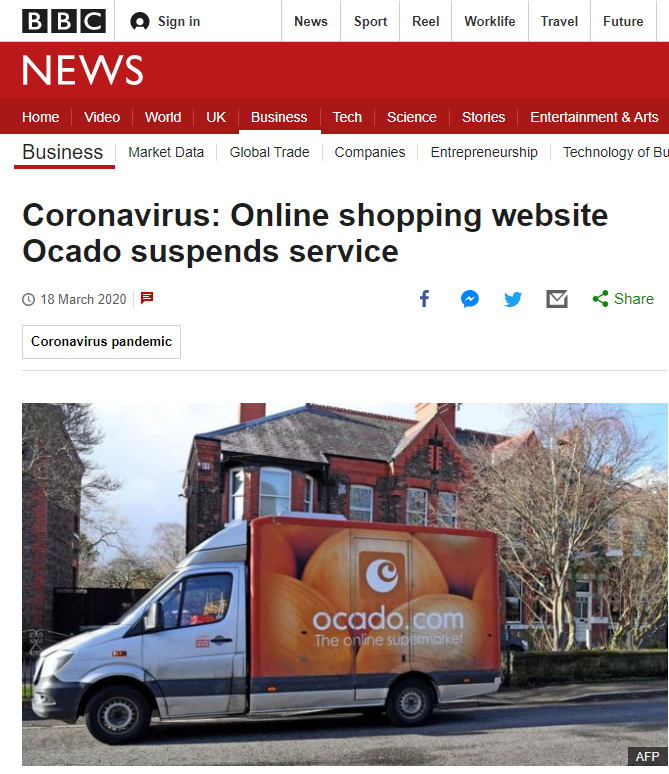 The move comes as the UK's dominant online grocer, Ocado (the only one pioneer online profitable grocery sales model in the world with Freshdirect in NYC) is struggling to open additional grocery delivery slots for consumers due to the unprecedented demand caused by the blockages associated with COVID-19.
Ocado having even been forced to suspend its deliveries for a few days following a saturation of requests on March 17, and putting its partners whose logistics it ensures in "white product" like Sainsbury to the trouble and out of possibility of delivering its customers as dependent on Ocado logistics. …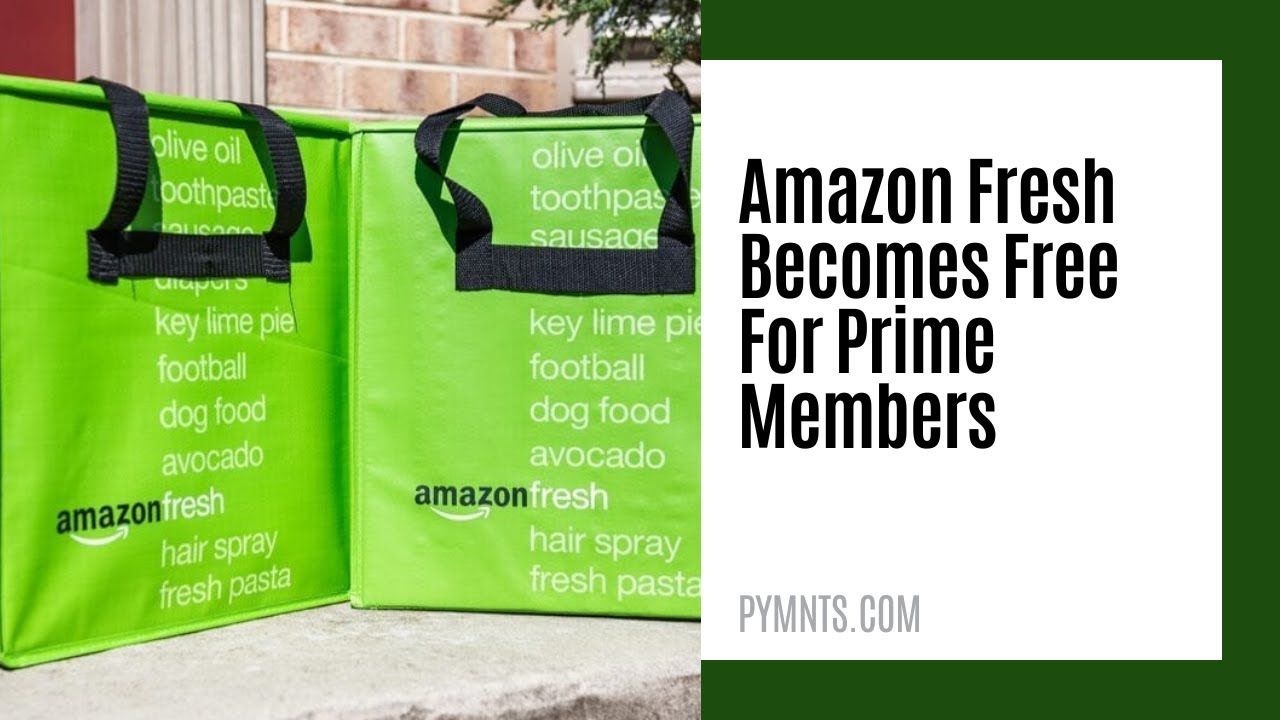 Conclusion.
In any case, all of this goes in the direction of integrating the "daily grocery" offer with the Prime subscription and a response model for competing offers like that of Walmart with its "unlimited delivery at $ 98 annual (or $ 12.95 a month) a sort of ultimate response from Amazon to its opponents Brick and Mortar ... and logistical empowerment of convenience stores, which was already in line with the history of commerce, and which should accelerate if post-containment behaviors are confirmed.
And the new playground and experimentation should be delivered across the Channel ... in England.